HOW THE CORPORATE SPACE WILL BE REVOLUTIONIZED BY VIRTUAL SPACES CREATED ON METAVERSE?
Innovations prevail at the backdrop of adversaries, the saying goes appropriate when we look back in history. During the second World War, there was a gradual shift in the human psyche when women were given equal participation as men in the work culture. Likewise, in the face of the Coronavirus Pandemic, a new concept of working blossomed via WFH or Work from Home set-up. The erstwhile challenged idea of making workers function from home did wonders and technology has further bolstered the same for a long term sustainable future.
1.What has Technology Done To Bolster The Concept of WFH or Work from Home?
Through the emergence of web3 powered by blockchain , ai and ML , the work environment has turned much more immersive and interactive for the users. The workers can interact in the metaverse, which is a digital world through their avatars and make the concept of virtual spaces sustain towards a next gen workforce innovation. That brings us to question: what are virtual spaces?
2.What are Virtual Spaces?
Virtualspaces are an online environment where anyone can experience a Realtime immersive virtual experience through avatars . If you want a much deeper experience of a virtual space, look back to the James Cameroon Magnum Opus Avatar where people of Earth created their human avatars on the planet of Pandora to interact with the people of Pandora. In the virtual space, the only difference will be that you will remain in the same environment but it will be simulated only through the computers without you actually moving to a different location. That said, what has virtual space led to? They have led to closing the gap between work from home and work from the office. The below mentioned points are few innovations they have brought.
3.How can virtual spaces help close the gaps between work from the office and WFH?
When you have to spend at least 20% of business income on rent to keep things afloat, the desire for an alternative which is convenient, safe and satisfying would not be a bad idea. The Metaverse has apparently given the same to businesses. Through their virtual spaces, they have closed the gaps and allowed a new type of work set-up to function. Here's how it is closing the gap between WFO and WFH.
Improved Social Connection
Most of the Zoom or Google Meet meetings do not work out because they are not at all immersive and interactive for the participants. But when you are interacting on the virtual spaces built on top of the metaverse, social connection, mobility and collaboration can take place in a personalized way. With the old 2D technology like Zoom and Google Meet, it becomes very difficult to make a group of 10 to 20 make a very interactive communication. Virtual spaces on Metaverse will answer this problem. Employees can pop in and out of these virtual offices, roam or walk up to their virtual desks. In this way, it will give a truly simulated office work experience to the employees making them get more interactive and indulged in the job.
Eliminating Stress
Stress is an integral part of the work-from-home set-up. The main reason for the same is you do not know when to stop the work. Nuffield Health, UK's largest health charity wing, has said that 1/3rd of the UK's remote workers are experiencing some form of mental issues while working from home. Through the virtual spaces, a better demarcation can be established where offices will work much like the physical environment, but with an add-on. The add-on will be that while sitting in the room, the employee will have the same real experience like meeting a colleague, going for a walk or eating lunch with them. In this way they can better balance work and leisure to eliminate stress.
Simulated Environment
It is not only the interpersonal communication and immersive experience that matters, but innovation also drives people to offices. Most people go to offices in a happy state because they can meet with their colleagues and have a chill time. What if the environment can be tweaked. What if you can operate from a beach location, or a cruise, or hills. Or, if you want to go all sci-fi, maybe a different alien land. This can all work out in the favor of the business when employees are motivated to come to work daily. Through the virtual spaces, much of the same experience can be restored allowing enterprises to quickly close the gap between WFH and WFO without compromising the output and security of operation. As a result of the rise of virtual spaces, new WFH or Work From Home trends have picked up which will shape the working culture.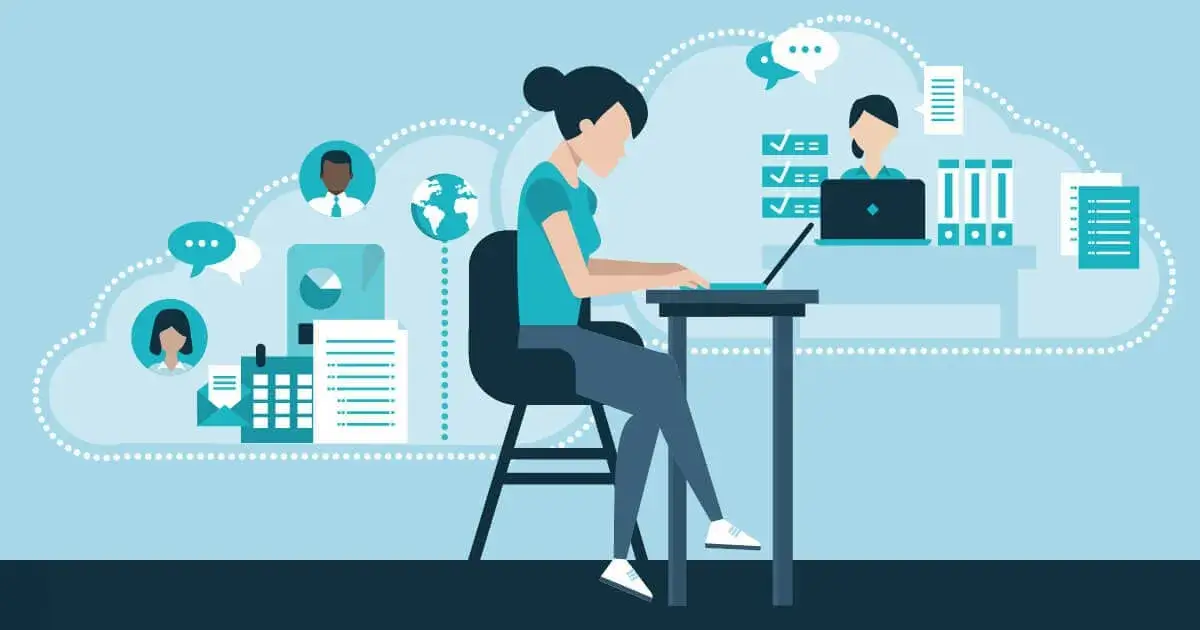 WFH Trends To Shape the Future of Work
Rise in Digital Nomads
With the growth of virtual spaces powered by metaverse , we could very well see the rise of digital nomads. Workers will no longer be tempted to work from a single location, on the contrary, they may be shifting to different places for pursuing their work. They may either rent a beach house or a villa in the mountains. To further elevate the experience, they may be immersing in the metaverse space as well. Or, at best, they can think economically by simply choosing to stay in the metaverse and work from that environment.
Work Actualization
Transparency and record keeping will be administered by decentralized technologies that cannot be tampered with. Along with this, new technologies will be deployed to make employees have a complete office-like experience and enjoy the beauty of working. This will not only improve the working experience of employees but also open new doors of opportunities for those that are based in hamlets and hinterlands.
4.How can SDNA help businesses seeking these platforms?
SDNA has already created numerous Metaverses for clients by understanding their problems and providing the most appropriate solution. If you are looking for a virtual space that you want to develop for your business, SDNA is there to assist you right from conceptualization to POC to final ecosystem release. The experts will be there to provide frugal solutions that can help improve your business significantly.