Maximizing Resources with Full Stack Development Services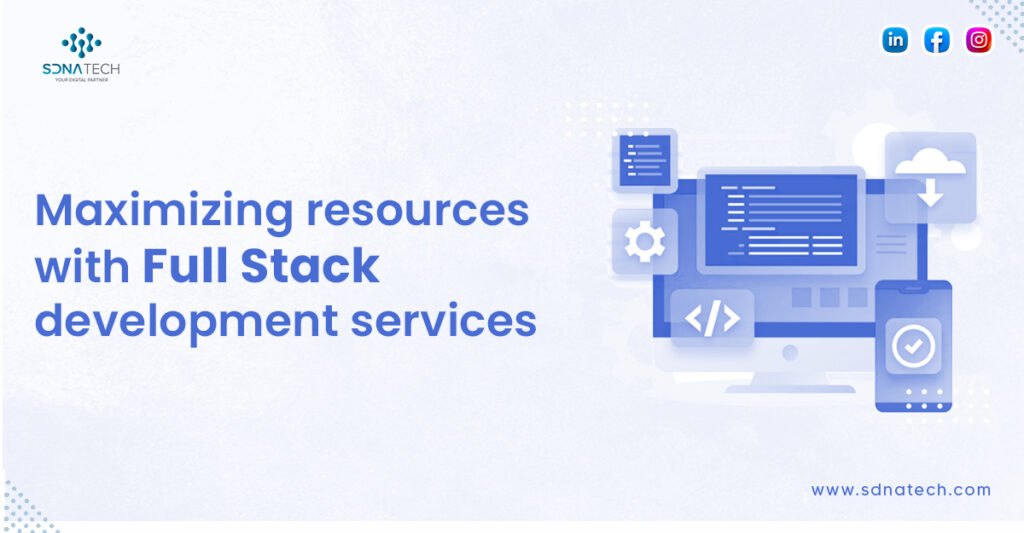 Businesses are searching for comprehensive and efficient solutions to keep ahead of the competition in the quickly changing world of technology. Full-stack development services have emerged as a game changer, providing a comprehensive approach to web and application development. Full-stack developers may construct completely functional and engaging platforms by combining front-end and back-end skills. In this blog, we'll look at the advantages of full stack development services and how working with a reputable full stack development company can help your company innovate and succeed.
1.What is Full Stack Development?
Full stack development is the process of constructing a web or mobile application from start to finish, involving both front-end and back-end development. A full stack web developer is skilled in working with numerous technologies and frameworks, allowing them to handle all parts of a project. As full stack developers, they possess a wide range of skills that enable them to complete a project from conception through completion, from server-side logic to database management. Businesses may save time and money by having a single expert oversee the whole development process.
2.Advantages of Full-Stack Development Services
Full stack development services provide several benefits that can have a major influence on the success and productivity of web and application development projects. The key benefits of working with full stack development are as follows:
Cost-Effectiveness:
Hiring a full stack web developer may help organizations save money. There's no need to hire different specialists when a single professional handles all front-end and back-end responsibilities, lowering total development expenses without sacrificing quality.
Efficient Resource Management:
Full stack developers have a diverse skill set that allows them to handle the complete development process from beginning to end. This effective resource allocation optimizes workflows and assures the best use of available resources, resulting in speedier project completion.
Time Efficiency:
Full stack developers are very helpful due to the way they can quickly adapt to changing project needs. They can transfer between activities smoothly, minimizing communication gaps and expediting the development process, resulting in a faster time-to-market for goods or services.
Seamless Collaboration:
It becomes easier to collaborate when a single person handles both front-end and back-end activities. Effective communication and coordination across project components result in a more unified development process, decreasing the possibility of misunderstanding or delays.
A Comprehensive Approach:
The full stack developer is familiar with the whole development process. They can design scalable and diverse solutions in addition to practical ones. This comprehensive approach ensures that the application or website may adapt and expand in tandem with the demands of the business.

Quality Assurance:
A full stack developer's extensive skill set allows them to assure the overall consistency and quality of the project. They may do extensive testing and debugging across all components, guaranteeing that the final product satisfies high performance and user experience criteria.
Startups and small businesses require adaptability:
For startups and small organizations with limited resources, a full stack development platform is a realistic choice. Hiring a single full stack web developer can give an all-in-one solution for their development needs, allowing them to focus on their main business goals.
CONCLUSION
It is important to consider the expertise, portfolio, and reviews of a full stack development company before making a decision. Consider a company that has a demonstrated track record of executing projects in a range of industries.
By embracing full stack development services, firms may optimize resources, accelerate development, and promote innovation. Businesses may benefit from cost-effective, time-efficient, and adaptive solutions that propel their success in the digital era by hiring a trained full stack web developer from a reputable organization like SDNA TECH. The complete stack development process provides a competitive edge and good project outcomes for anything from web apps to mobile platforms.